Our story
The cutting extinguisher coldcut™ cobra has contributed to safer firefighting for firefighters since 1997. The inventor and founder of Cobra tells how it all started.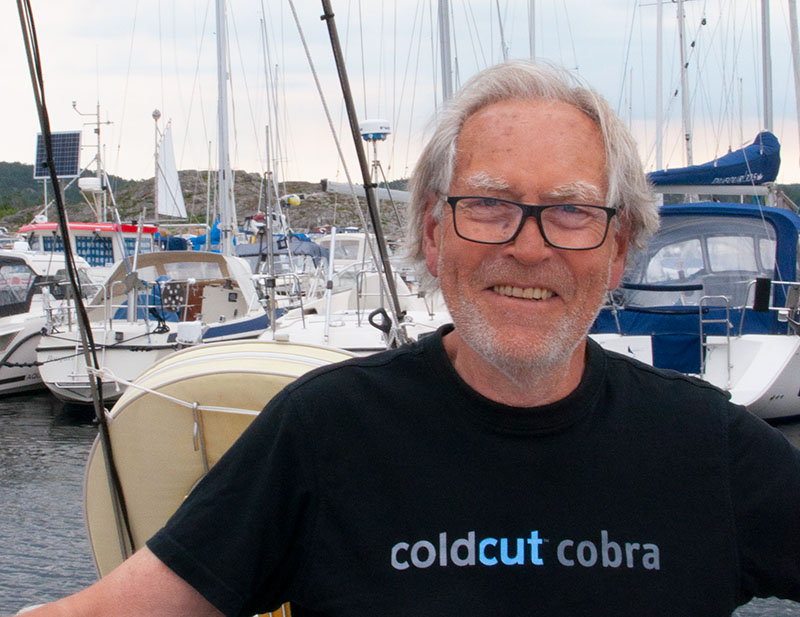 How it all started
Sea captain Lars G Larsson, also for some people known as Mr Cobra, is the inventor and founder of the world-leading cutting extinguisher coldcut™ cobra, which has been delivered to Fire and Rescue Services, the Marine, Industries, and Airports all over the World.
It all started back in 1987 when Lars G Larsson, with his own company MPAB, tried a new method for cutting in an explosive environment (DIAJET). The cold cutting technique allowed cutting in explosive and combustible environments. The first job assignments were cold cutting of refractors, cisterns and pipelines at the refineries in Lysekil, Stenungsund and Gothenburg on the Swedish West coast.
Already at an early stage, Lars G Larsson understood that the cold cutting technology would be useful in the Fire and Rescue Services. In 1988, a first presentation of the technique was made at Lindholmens Offshore Training Centre in Gothenburg. About 30 commanders from Fire and Security services from industries and municipalities in Western Sweden participated as well as personnel from the Swedish Maritime Administration, the Maritime Administration School, and the Coast Guard.
Lars G Larsson says, "If I had been a better salesman, the Cobra would have had its breakthrough already at that time".
8th of March, 1989, the Company Cold Cut Systems Svenska AB was established, and the assignments with the cold cutting technology started to come from refineries and paper factories.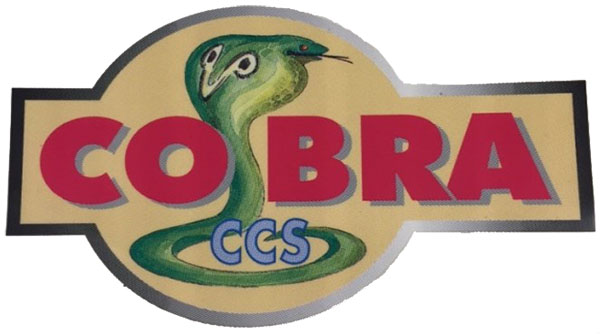 In the mid-'90s, the cold cutting technique was evaluated by Luleå Fire and Rescue Service and later by the Swedish Rescue Service Agency (today, The Swedish Contingencies Agency) as a tool for making ventilation holes – but the effect on the fire turned out to be even better! The Cobra could cut through any material, and as soon as the water jet came through, there was an immediate temperature drop.
The temperature reduction was so big and quick at the first measurements of the extinguishing effect that the responsible fire engineer thought they had accidentally cut off the measuring equipment cables.
"Cobra had such a fast effect on the fire that the responsible fire engineer thought they cut the measure cables", says Lars G Larsson.
In 1997, an agreement was signed with the Swedish Rescue Service Agency. The job was to produce a fire extinguishing equipment that could be mounted in the basket of an aerial platform. The same year a patent for the "cutting extinguisher" was registered.
Cobra is born
When it was time for Cold Cut Systems to start marketing and selling the product for the first time, there was a need for a name and a logo to go with the product. At a demonstration, an American journalist suddenly exclaimed, "It stings like a Cobra!". So this is how the coldcut cutting extinguisher got the name Cobra!
In 1998, the hand-held lance was developed together with two students at the Innovation & Design Engineer Program at Karlstad University. The focus was on ergonomics for the firefighter.
The first two commercial Cobra systems sold were bought by the Swedish Fire and Rescue Services in Borås and Sörmlandskusten.
Today there are about 1300 systems in 45 countries worldwide. Most of the Cobra systems are used by municipal Fire and Rescue Services. However, Cobra is also used in; refineries, car production, steel- and paper industry, chemical processing industry, non-nuclear and nuclear power plants, coal mines, airports, and maritime departments.

It stings like a Cobra!
An American journalist came up with the name Cobra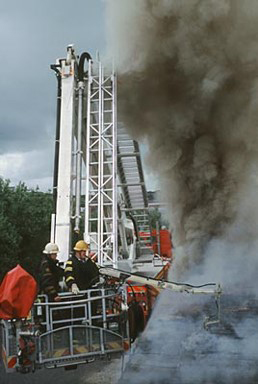 Cobra at Interschutz 2005
Our customer commitment
At Cold Cut Systems, we always aim to develop long term win-win relationships with our customers. We pride ourselves on being easy to do business with by being customer-focused and responsive. We believe in being open and honest in our dealings and acting with integrity.
The first step in this process is to understand each individual customer's needs; We have access to a large number of very experienced Fire and Rescue Service people, both serving and retired, all of whom have extensive knowledge of the Cobra Method and how it can complement other firefighting strategies and tactics. They are drawn from a variety of backgrounds, including municipal Fire and Rescue Services, Airport Fire and Rescue Services, and Marine firefighting.
These experienced officers will meet with you to understand what your risks are and what your aims are in terms of Cobra use. This helps us to ensure that Cobra is right for your organisation and helps you to develop a sound business case.
Once the business case is made, we can offer a range of different evaluation methods if you wish to evaluate Cobra within your organisation. These include cost-effective practical evaluations and reports from previous evaluations, as well as giving you access to scientific reports regarding the effectiveness of Cobra.
Cold Cut Systems have access to firefighting expertise representing over 200 years' accumulated experience in different countries.
Once a decision has been made to proceed with the purchase of Cobra equipment, our Sales and Technical staff will work with you to decide on the best Cobra option to meet your needs. They will also work with your coachbuilder, as appropriate, and workshop staff to ensure that the equipment is installed to the highest standards.
Via our Cold Cut Academy, we will also provide you with high-quality training for your staff at all levels to help them gain confidence in Cobra and its capabilities. Access to the training material, including any updates, is then ongoing. This training commitment is a key element to ensuring that your organisation realises a return on its investment.
Our commitment to your organisation does not end there, as we will stay in touch for after-sales care; this includes access to user groups and the latest information regarding Cobra use and maintenance.
Cobra; some main advantages

It improves the safety and working environment for firefighters. With Cobra, the fire can be fought from a safer position outside the burning building/construction.

Cobra moment: Quickly suppressing a compartment fire provides the Incident Commander with a window of opportunity to plan further safe operations to quickly and effectively control and extinguish the fire. Cobra is brilliant in mitigating flashovers and backdrafts, thus minimising the risk for firefighting personnel and limiting fire spread. When used by a well-trained firefighter, it can also be a proactive rescue tool.

The annual economic cost of fire is significant and extensive. Damage caused by water used in firefighting operations represents a considerable cost. Cobra has proved to be an invaluable tool in reducing the extent of damage in a way no other firefighting equipment can offer.
Main owners of Cold Cut Systems AB

Saab Group via Saab Ventures AB

IF Metall via Förvaltningsaktiebolaget Metallica

Lars G Larsson, the founder of Cold Cut Systems, via Skärsläckaren AB