Friday, March 4th, 2016, 16:57. Netherland Fire and Rescue Service Zuid-Holland Zuid were called to a fire in a furniture shop in Sliedrecht. Upon arrival, the shop was filled with black smoke, which became white and could be seen pushing out through the rear wall and roof.
The probable cause of the fire was a light fitting that had exploded. There was nobody left inside.
17:06 It was soon stated that an inside attack with breathing apparatus (BA attack) would not be possible due to intense heat.
17:18 A decision was made to wait for the fire to burn through the roof and then use an aerial appliance to attack the fire.
18:07 Cobra and fans for ventilation were ordered from a neighbouring district as the fire did not burn through the roof.
19:07 Approximately an hour later, the first Cobra attack was made. The temperature dropped substantially and after a period of cooling a BA attack was made.
20:26 Report from the incident commander – "Fire under control".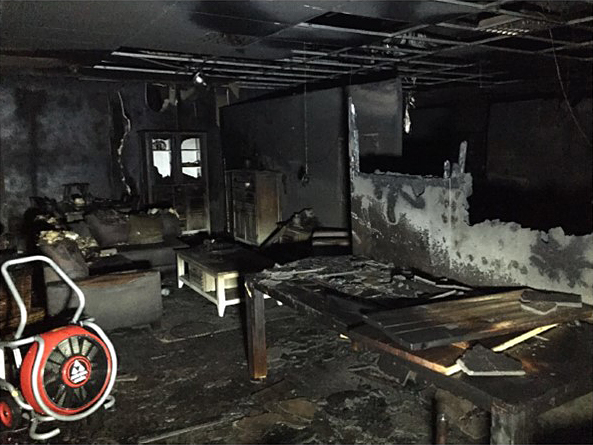 This is an example of a severe fire involving a large amount of synthetic materials.
The firefighters' own observations are very interesting to read:
"From ceiling to floor, the whole shop was filled with stationary, floating white/yellow smoke. The fire was under-ventilated, and pyrolysis was continuing."
"Have patience to let Cobra do its job. 600 lpm from the ladder will create more water damage than good effect on the fire."
Conclusions

Attacking from the outside helped ensure that firefighters were minimally exposed to eminent dangers
Ventilation with positive pressure ventilation (PPV) prevented fire and smoke spread to neighbouring premises
By using only 60 lpm in the first stage and then enter with the BA crew to extinguish the initial fire, major costs could be saved in terms of water damage